Fresh Fruit & Veggies Delivered
Home delivery is available all over Los Angeles, San Fernando Valley, Pasadena, Santa Monica, Pacific Palisades, and lots more areas too.
We also have conveniently located community pick-up sites at the locations below. You can search by zip code + see the map here.
LOS ANGELES
Wildwood Alternate/ Mar Vista
Mondays 11:00am-6:00pm
Ocean Park / Santa Monica South
Mondays 12:00pm-7:30pm
Venice
Mondays 1:00pm-8:00pm
Brentwood/ Santa Monica North
Tuesdays 11:00am-8:00pm
Pacific Palisades
Tuesdays 3:30pm-7:30pm
Culver City 
Wednesdays 11:00am-8:00pm
Wonderland / Laurel Canyon
Wednesdays 11:00am-8:00pm
South LA 
Sundays 2:00pm-8:00pm
Westwood
Thursdays 3:00-6:00pm
SAN FERNANDO VALLEY
Encino Community Pick up
Mondays 1:00-8:00 pm
Granada Hills Community Pick up
Mondays 3:30-8:00 pm
West Hills Community Pick up
Tuesdays 3:30-8:00 pm
PASADENA
Friends Western School
Thursdays 2pm-6:00pm
CONEJO VALLEY
Westlake Village
Tuesdays 12:00pm-8:00pm
Make your porch a delivery site!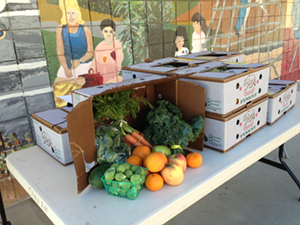 Home delivery!
Serving: Los Angeles, Santa Monica, Brentwood, Palisades, Culver City, Marina Del Rey, Playa del Rey, Venice, Westwood, Mar Vista, Hollywood, Sherman Oaks, Encino, Tarzana, Van Nuys, Calabasas, Chatsworth, Northridge, West Hills, Woodland Hills, Agoura Hills, Westlake and more!